Bansko Bulgaria - Skiing in the Pirin
Bansko is probably the largest ski resort in Bulgaria. It has the longest ski runs and the richest array of cultural history and landmarks. Bansko is located 160 km south from Sofia, in the Pirin Mountain. As the resort offers hotels and restaurants in a wide price range, it's the most crowded from them all. However, this only con is drowned by the numerous pros of the resort. 
Skiing in Bansko Bulgaria is one of the best gifts you can give yourself or your friends. Aside from skiing, you will be able to enjoy an extensive shopping experience, excellent nightlife, and even an ice skating rink during the winter.
How to Get to Bansko from Sofia
So, how do you get there? It's incredibly easy. First off, you need to catch a plane. You can land in Sofia or Plovdiv although Sofia is closer to Bansko. Once you get off your flight, you should either head to the main bus station or find a good rent-a-car company. The central bus station in Sofia is a perfect place to find transport to Bansko or more preferably book a transfer in advance from our partner 'Kiwi Taxi'.  And if you choose to rent a car or transfer – you can get there in two or three hours. 160 kilometers isn't a very long distance!
---
Airport Transfers from Sofia to Bansko
---
Bansko Bulgaria - Ski Tracks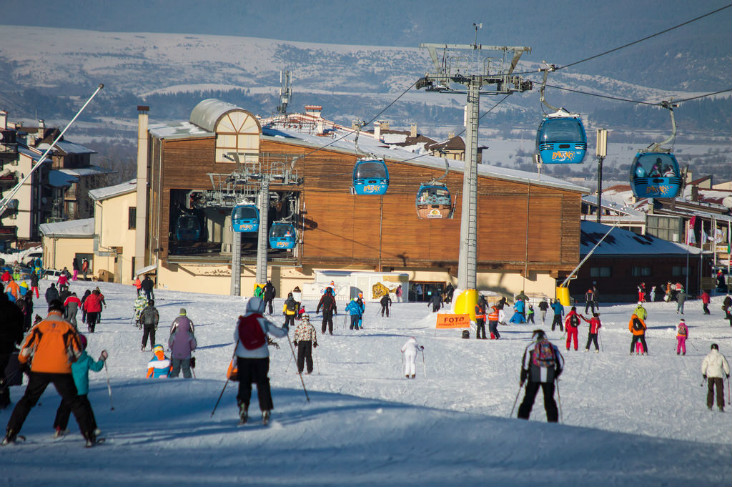 Bansko Ski Resort Main Area, photo credit: Balcon del Mundo Bansko gondola ski lift via photopin (license)
The total length of the ski tracks in Bansko is 75 kilometers. The great thing about the resort is that almost every track is promptly equipped with snow cannons for a fantastic skiing experience. The Pirin is an Alpine-type mountain and the highest peak there is Vihren, standing at 2914 meters. The actual ski area is at an altitude of 2000 meters and the highest point of the ski center is at around 2560 meters from the sea level. The longest ski road is 16 kilometers long and is perfect for mid and high-level skiers and hikers. There are also some lifts which carry the passengers to their chosen tracks. The different types of lifts are gondola, six, four and two-person chair lifts and the smaller anchor types.
---
Bansko Weather
The weather in Bansko is usually perfect for skiing. Light snowfalls aid the track conditions, and when it's not snowing, you can see the snow cannons spewing artificial ice all around. Most of the time, the weather is sunny, and the temperatures are between -10°C and 0°C. During the summer, the highest temperatures you will encounter are about 24-25°C.
---
Bansko Ski Pass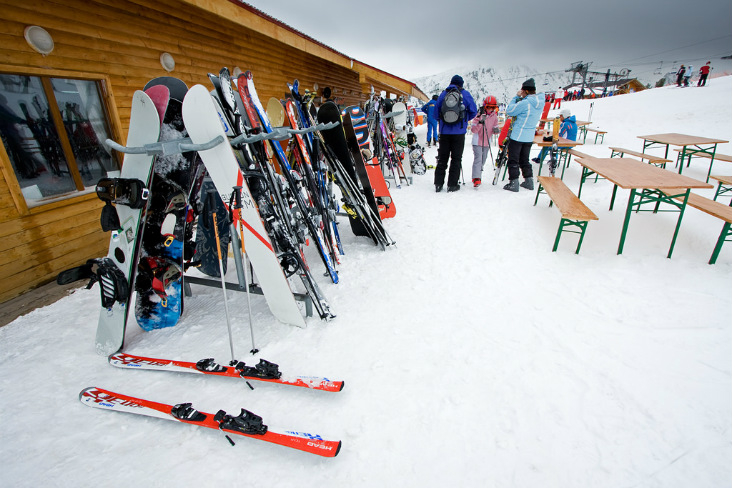 Photo credit: E01 Ski rack via photopin (license)
Purchasing a Bansko ski pass is incredibly comfortable and cheaper than most resorts you've been to. The resort offers family season cards. They start from 3000 BGN for two parents and one child up to 16 years old. For each additional child, you can add 1000 BGN to the price. There are numerous ski passes to choose from:
One day at Starting Station lift: 10 BGN;
Half-day after 12:30: 38 BGN for adults, different discounts for younger people;
One day: 46 BGN;
Two days: 90 BGN;
Three days: 136 BGN;
Four days: 179 BGN;
Five days: 224 BGN;
Six days: 272 BGN;
Nine days: 400 BGN;
Thirteen days: 560 BGN;
Bansko Twenty: 800 BGN;
Season pass: 1500 BGN.
All of those offers have various discounts for students, children between 7 and 12 years and children under seven years old. There is a mandatory deposit for the chip card of 5 BGN, which is returned upon leaving the resort. All the prices include mountain insurance. If you have leftover days from your Bansko Twenty pass, they will be transferred to an upcoming season.
---
Bansko Ski Holidays - Tourist Information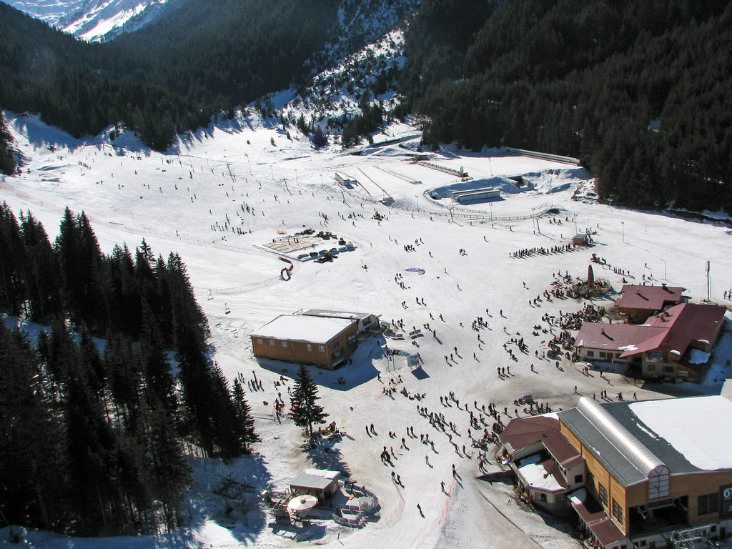 Photo credit: Nacho y Adriana Bansko Ski Resort Main Area (with notes) via photopin (license)
Spending your ski holidays in Bansko can be an unforgettable experience, but keep in mind the resort is also very active during the summer season, too! In August, you will be able to enjoy the International Jazz Festival Bansko 2016 and the Opera Festival. The restaurants vary from typical Bulgarian ones called Mehana, through Italian and Japanese Teriyaki and Sushi. Bansko covers any food taste with style and quality.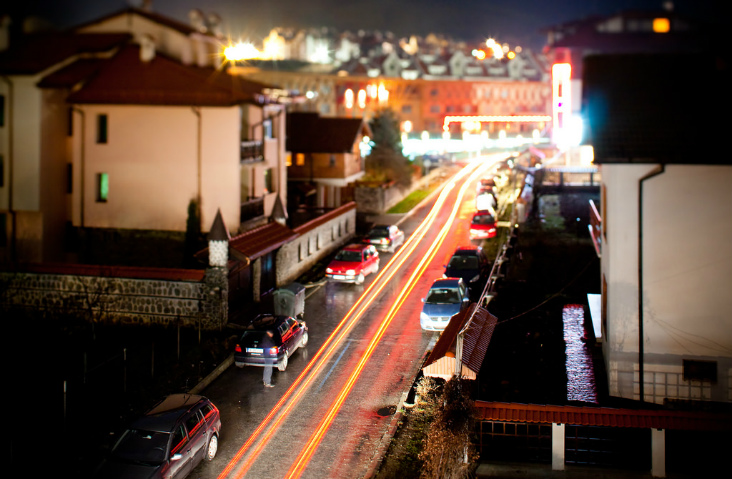 Photo credit: E01 Bansko street via photopin (license)
The Bansko nightlife is always at full speed. One of the most famous places there is the Happy End bar and club. Aside from good local food, you can taste a variety of excellent wines and enjoy the bar and disco club with many local and international stars and DJs. For maximum relaxation after a long day full of skiing experiences, visit the Sing Sing piano bar. Experience masterfully prepared cocktails, exciting live music, and a pulsating party atmosphere.
There are numerous shopping spots in Bansko offering sports and elegant clothing for any taste. If you just want some relaxed fun, you can visit the ice skating ring with your friends and family and feel the chilly mountain air in a more relaxed atmosphere.
The Baikusheva Pine is an ancient tree from the Black Pine species. It's situated near the Banderitsa cabin. The tree is more than 1300 years old, which makes it the oldest coniferous tree in Bulgaria and one of the oldest in the world.
Velyanovata House is a national cultural monument and is a perfect example of the architecture during the Bulgarian Renaissance. Some of its unique features are the murals and the wood carvings on the ceiling.
If you wish to see faith-related sights, then you should visit the St. Trinity Church. The temple complex is among the largest historical and cultural landmarks in Bansko. It's built in 1835, and the insides are full of magnificent murals, frescos, and icons. The Permanent Icon Exhibition is located near the St. Trinity Church and is housed in the oldest building in the city, built in 1749.
Bansko is a bustling tourist city, and it can offer you way more than you expect. If you choose skiing in Bansko Bulgaria, you will have an unforgettable experience at a very reasonable price. The numerous tourists every year and the regular tournaments – like the Audi Fis Ski World Cup in 2015 – are a testament to the quality of the ski tracks. The charm of the resort is that if you ask different people about their experience, they will tell you completely different stories. Bansko can offer an excellent experience and cater to any taste.
---
Excursions from Bansko to nearby attractions