Bulgaria Black Sea Resorts
Whether you are planning your next adventure at the Bulgarian Black Sea coast, a short trip to one of the Bulgaria's numerous Black Sea resorts or you are wondering whether it is worth visiting Bulgarian seaside – you are in the right place! In this article, you will find interesting and helpful information about the Bulgaria's Black Sea resorts and coastal attractions to inspire you to visit Bulgaria.
Bulgarian Black Sea Coast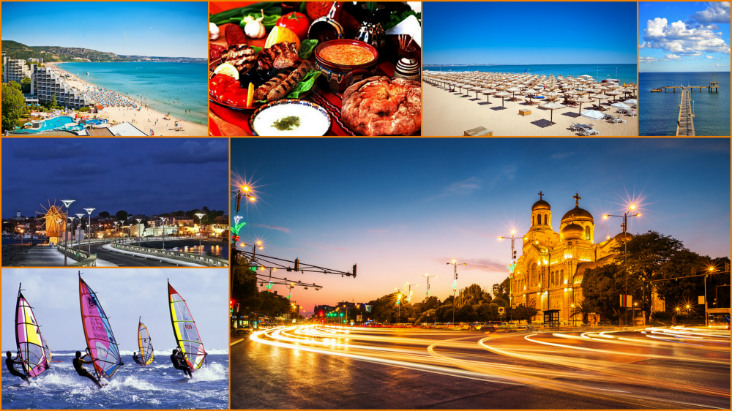 Find out why the Bulgarian seaside should become your next holiday destination, and what are the biggest cities and resorts on the Black Sea coast.
Clear sea water, practically endless clean beaches, sunny weather, a plethora of holiday resorts, enchanting historic towns, captivating culture, beautiful nature reserves, an abundance of underwater fauna and flora, a variety of water sports, a huge selection of shops and restaurants, and delicious cheap local food and wine are just some of the reasons why your holiday in Bulgaria will be unforgettable! There is something interesting here for almost any type of visitor. Families with kids, nature lovers, adventurers and adrenaline junkies, history seekers or beach holiday enthusiasts will all be equally captivated by the Bulgarian Black Sea coast and its resorts, but what is important - holiday in the Bulgarian Black Sea resorts will not break the bank! The Bulgarian coast is considered the most affordable place for European holidaymakers and cheap holidays in Bulgaria are a great alternative to the more expensive Mediterranean destinations. What else could have you asked for?
Varna and Burgas are the two largest cities on the Bulgaria's Black Sea coast, and the Balkan Mountains lying between the cities split the coast into the northern and southern part. If you are traveling by plane, train or bus, your summer holiday in Bulgaria will commence in one of these cities. From Varna, you will reach the northern coast resorts, including Golden Sands, Albena, Balchik; and from Burgas, you will get to the southern coast resorts, such as Sunny Beach, Nessebar, Sozopol, and others. The largest and the most popular coastal resorts in Bulgaria are Sunny Beach and Golden Sands.
Read on to get a taste for Bulgaria's Black Sea resorts, to find out about the major coastal attractions and how to make the most of your holiday at the Bulgarian seaside. All the resorts are listed according to their location order - from the northern to the southern resorts.
---
Bulgaria's Black Sea Resorts – northern Varna region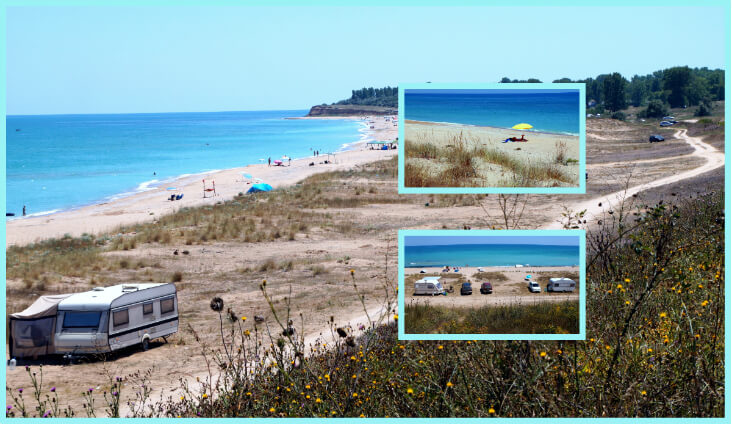 Krapets is one of the north-most located village resorts on the Bulgarian coast. If you fancy a remote feel place with a long beach, azure sea, and minimal amenities you will be delighted. Krapets is especially popular among wild campers staying in their tents or camper vans. The sea temperature here is few degrees cooler compared to Bulgaria's southern Black Sea resorts.
---
Golden Sands is one of the Bulgaria's most popular Black Sea resorts, conveniently located 17 km from Varna. Apart from long and spacious sandy beaches, Golden Sands offers a lively and diverse entertainment scene, water sports, water park etc. Despite all the development and summer crowds the resort has managed to maintain its natural charm and it boasts a national park, mineral springs, and the historic Aladzha Monastery - nestled in a cave in a cliff side.
---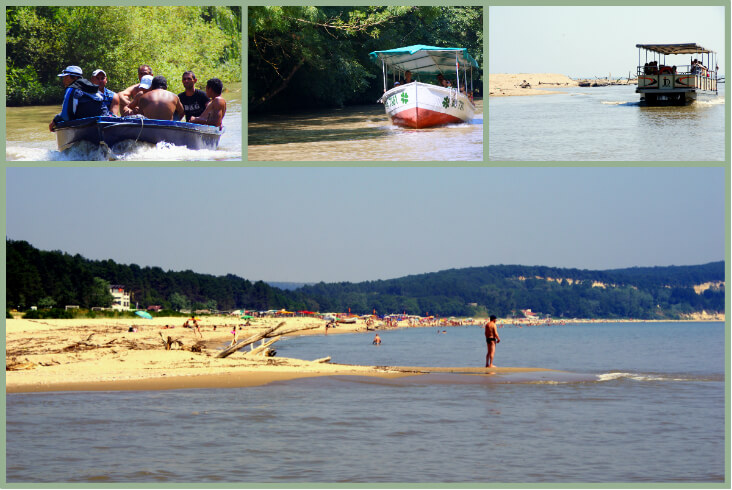 Kamchia is an oasis of tranquillity on the Bulgarian Black Sea coast that most tourists have not heard of. This tiny resort stands out as an escape from the hustle and bustle of all the heavily developed resorts. Kamchia is located right by the Kamchia Biosphere Reserve, which includes the mouth of Kamchia River, dense forests, abundance of fauna and flora, and access to the beach.
---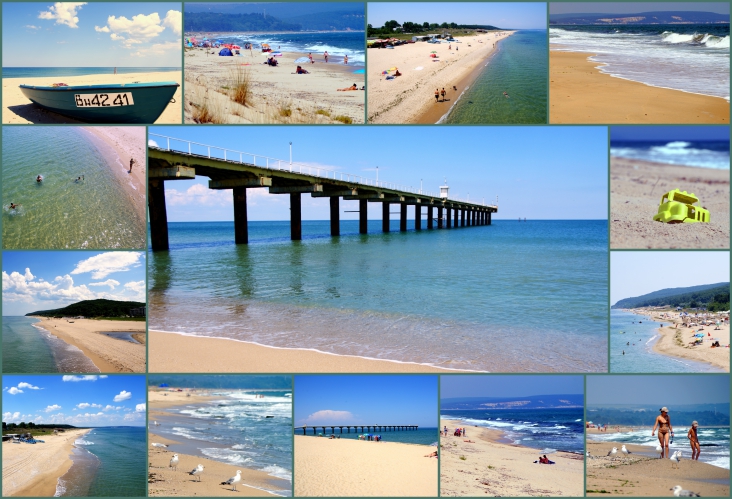 Shkorpilovtsi is a small sleepy village resort with the longest beach (11 km!) on the Bulgarian Black Sea coast. You won't find here any large hotel chains but there is still a good range of accommodation, including a 5-star spa complex and camping. Shkorpilovtsi resort is also the best place in Bulgaria to learn kitesurfing and windsurfing, thanks to favorable wind conditions and knowledgeable instructors.
---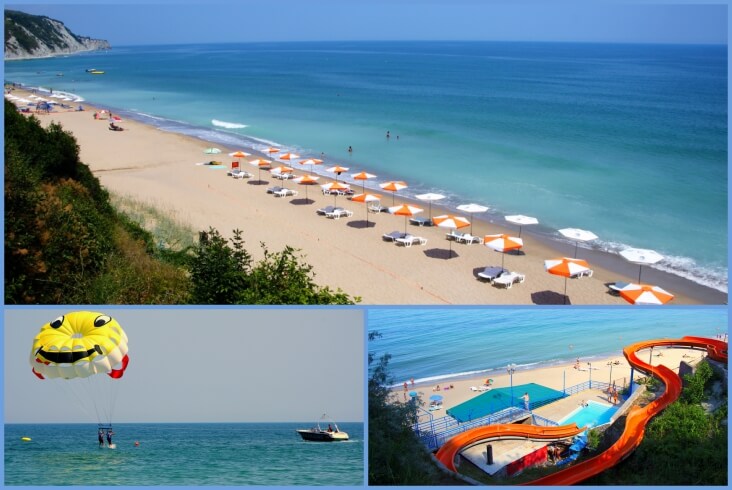 Byala is a small charming town with a good range of accommodation, restaurants, and all the amenities necessary for a relaxing holiday. Byala is ideal for a vacation on a budget without a compromise. This quiet Bulgarian Black Sea resort is surrounded by beautiful nature boasting white cliffs, forests, beach, and the sea. In recent years the sea became a little rougher around Byala, which makes it a suitable spot for windsurfing.
---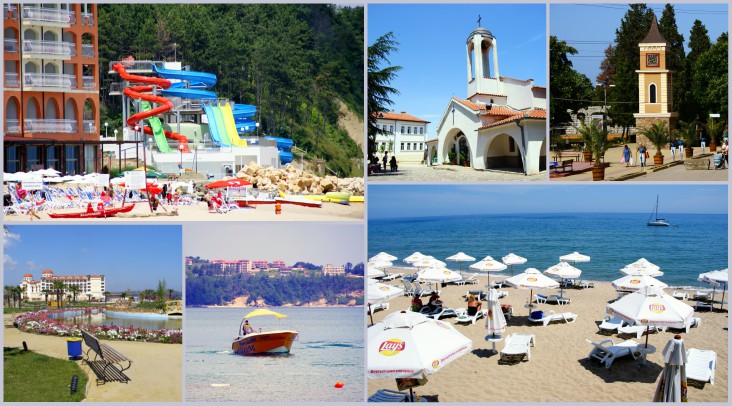 Obzor is a small historictown located half way between Varna and Burgas. Although Obzor doesn't have all the hustle and bustle of the more commercialized Bulgarian Black Sea resorts, it offers excellent amenities, a 10km long beach, a variety of attractions, historical sites, and cultural events. What's important, prices in Obzor tend to be cheaper than in the busier resorts.
---
Bulgaria's Black Sea Resorts – southern Bourgas region

Photo by: Marina Sunrise Complex
Sveti Vlas is a seaside resort and town nestled at the foothills of the Balkan Mountains. Sveti Vlas boasts the biggest in Bulgaria marina, and despite all the developments, it is a peaceful town and a quieter alternative to nearby Sunny Beach. Apart from beaches and all the holiday amenities, there are some picturesque walking trails starting in the town center. You can expect to pay higher prices here compared to Bulgaria's other Black Sea resorts.
---
Kosharitsa is a small quiet village located on picturesque hills near Sunny Beach. This sleepy resort offers peace, a relaxing atmosphere, some very basic amenities, and hiking and biking trails amidst its beautiful nature. Kosharitsa is ideal for those who travel by car, want to explore nearby resorts but wish to get a peaceful base or simply spend time in nature away from the crowds.
---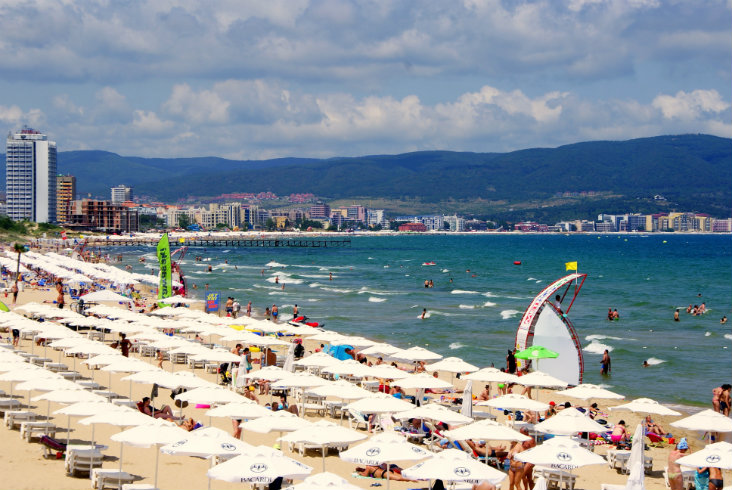 Sunny Beach – the biggest, busiest and the most popular Bulgarian Black Sea resort with fabulous weather, beach, and location. You will find here any amenities you might possibly need: a range of accommodation spilling right on to the beach, restaurants, night clubs, car rentals, travel agencies, water sports rentals, water parks, paintball, supermarkets etc. If you love all the hustle and bustle of seaside resorts, with crowds, loud music, partying, and socializing – you will love this place! Otherwise, head to quieter resorts.
---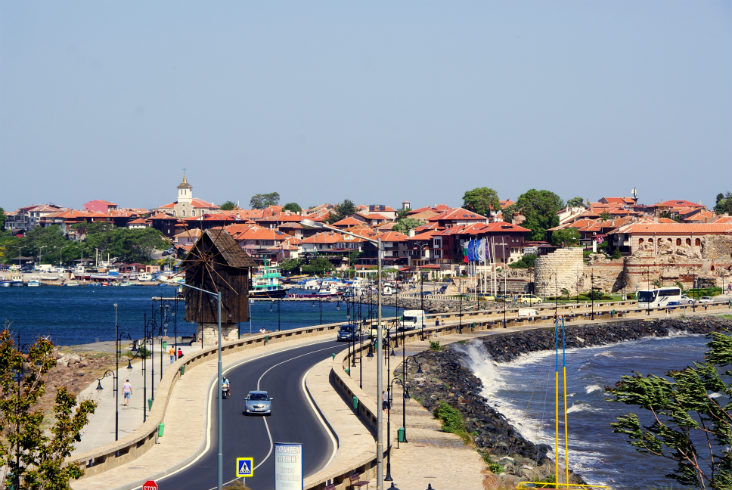 Nessebar is a charming ancient city and UNESCO heritagesitenear Sunny Beach. This small Bulgarian Black Sea resort often called the Pearl of the Black Sea impresses with rich heritage marked by different civilizations over its ancient history, with an abundance of historic buildings and museums. Apart from historic landmarks, Nessebar offers beaches, seaside port, water sports, yacht trips, water park, paragliding, cultural festivals and much more.
---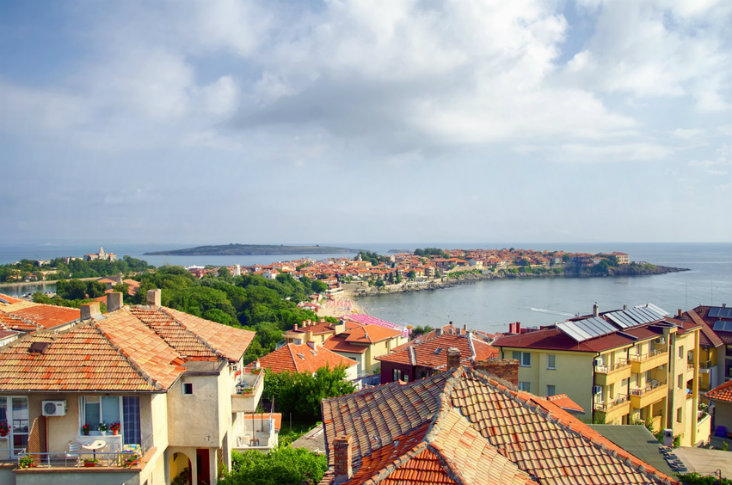 Sozopol is an ancienttown and one of the oldest on the Bulgarian Black Sea coast. This resort, historically called Apollonia, has a rich history, a romantic downtown area with stunning Renaissance architecture and cobbled streets, beautiful beaches, a great location on the rocky peninsula and a very lively cultural scene. Sozopol is often referred to as a cultural capital of the Bulgarian coast.
---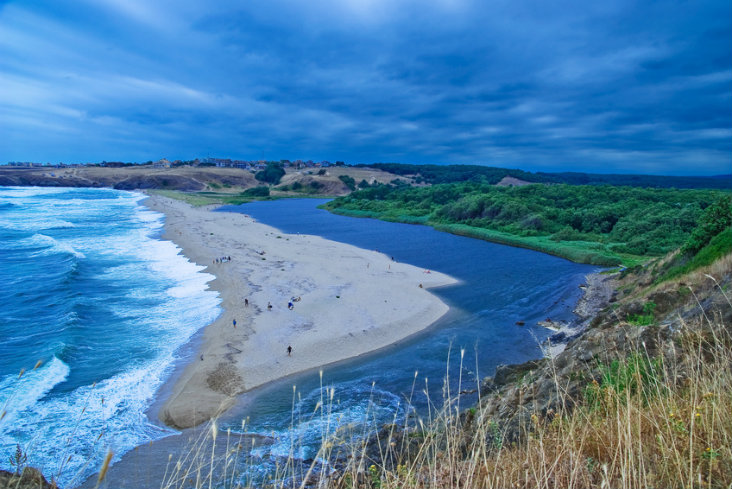 Sinemorets is one of the most southern resorts on the Bulgarian Black Sea coast, nearby Turkish border. This tiny village has some of the most picturesque beaches in Bulgaria, including undeveloped secluded beaches ideal for nudists. The best advantage of Sinemorec is its location at the mouth of Veleka River, and within the biggest in Bulgaria Nature Park – Strandzha. This means an abundance of wildlife, plethora of hiking trails, great fishing and a unique beach which separates the river from the sea.
---
Major advantages of the Bulgarian Black Sea resorts
Bulgaria's main seaside attraction - beaches
Bulgarian Black Sea beaches delight both with their beauty and cleanliness. Many of the beaches (out of 90 available), are awarded a Blue Flag - a distinction based on the assessment of water and beach cleanliness, and its ecological value.
If you are planning to actively spend time on the beach in Bulgaria, you will not be disappointed! There is a huge selection of water attractions: water skiing, windsurfing, diving, kitesurfing, underwater hunting, sailing, water parks and more.
In addition to the sprawling and crowded beaches, stretching along the bustling Bulgaria's Black Sea resorts like Sunny Beach, there are still undeveloped coastal locations for those who want to leave the crowds behind. Enjoy the empty beaches and lagoons like those near Sinemorets, small fishing villages and wildlife reserves which attract migratory birds, e.g. Kamchia Reserve.
---
Weather at the Bulgarian Black Sea resorts
Bulgaria's coastal strip boasts a mild sub-tropical climate with both continental and maritime influences, which makes Bulgaria's Black Sea resorts a very attractive summer holiday gateway.
The average summer's air temperature during the day is 26 - 27°C which falls to a pleasant 17 - 18°C at night, with the sea temperature reaching between 23 - 24°C. The average annual rainfall is only 500mm, most of which falls between April - May, and November - December. Winters are usually mild with the temperature above 0°C, but storms occur.
The best time for a holiday in Bulgaria is between May and October. Those, who would like to experience the hottest period, with the air temperatures of 30°C and the Black Sea temperatures reaching 27°C, should plan their vacation at the Bulgarian seaside for the peak season: between July 15 and August 20.
---
Nature at the Bulgarian seaside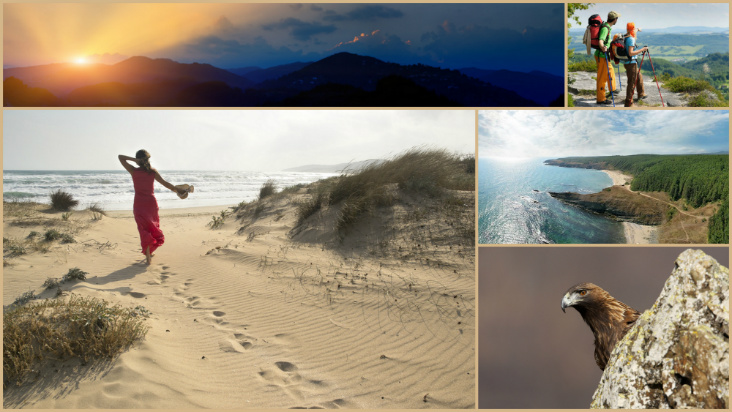 Bulgaria's Black Sea coast is not only about the man-made resorts but also the impressive nature, with a significant part of the seaside being a natural reserve or a protected area, e.g: Ropotamo Reserve, Golden Sands Nature Park, Kamchia Biosphere Reserve, and Strandzha Nature Park.
Nature lovers will be thrilled with Bulgaria's rich fauna and flora of the Black Sea coast, thanks to Bulgaria's geographical location and landscape diversity that offers thriving conditions for the variety of species. Bulgaria's coastline features rivers and lakes, lowlands and steppes, valleys and highlands, dense forests and the mountains descending into the Black Sea.
Water lilies, sand lilies, sedges, tamarisks, figs, pomegranates, almonds are just some of the typical Black Sea plants of 3500 species! The coastal mammals and birds found here include deer, wild boars, rabbits, seagulls, herons, cormorants, swallows, wild ducks, partridges and much more. Bulgaria's location on the bird migration route Via Pontica (Northern Europe - Africa) makes it one of the best places in Europe to observe and photograph birds.
Amazing underwater world of the Black Sea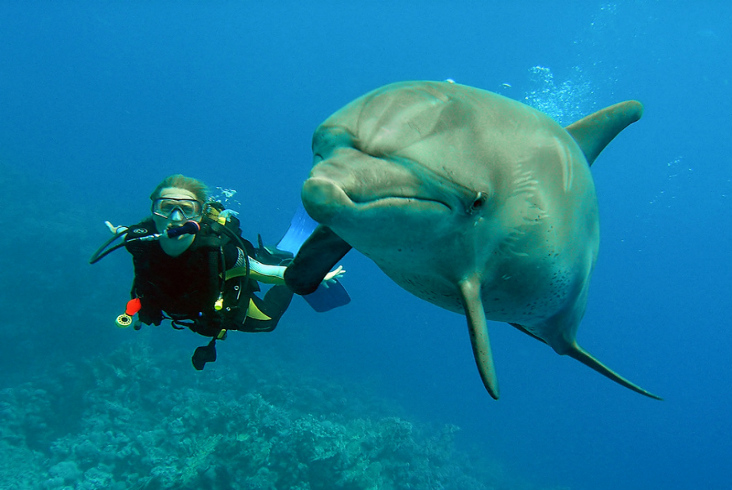 Low salinity of the Black Sea - about 17 psu at the surface (less than half the average salinity in the ocean), contributes to relatively low species diversity. Despite this, marine life in the Black Sea still impresses with the wealth of species, such as dolphin, porpoise, bottlenose dolphin, crabs, mussels, benthic fish species, pipefish, scorpionfish, gurnard, goby, mackerel, seabass, tuna, Black Sea turbot, flounder and much more.
Did you know that even sharks live in the Black Sea? Fortunately, they are shark species that do not pose a threat to humans, including:
endangered spiny species of shark - piked dogfish (Squalus acanthias);
skate fish species related to a shark - thornback skate (Raja clavate) and common stingray (Dasyatis pastinaca).
---
Cultural festivals and cuisine at the Bulgarian Black Sea coast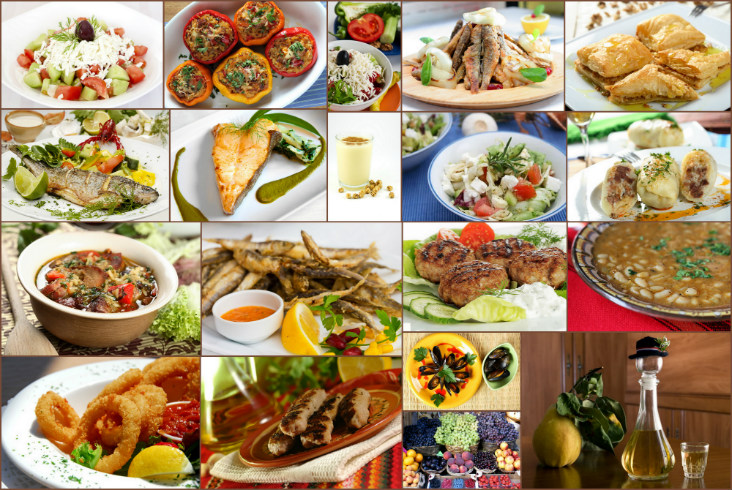 If you are looking for some additional cultural entertainment during your holiday at one of the Bulgaria's Black Sea resorts, plan your stay around some of the many local festivals at the Bulgarian seaside:
| Festival's name | Theme | Time/ place |
| --- | --- | --- |
| Kaliakra Rock Fest | Rock music | Summer / Kavarna |
| Spirit of Burgas | Music | August / Burgas |
| Apolonia | Music, theater, art, poetry, etc. | Summer / Sozopol |
| July Morning | Gathering of hippies from around the world | 1st July / Kamen Bryag |
| Varna Summer Festival | Classical music and performances | June and July / Varna |
| Love is Folly | Movies (international) | Summer / Varna |
| World Folk | Folk dances (international dance groups) | August / Burgas |
While visiting Bulgaria, an attraction on its own is trying and indulging in some traditional local foods. Fresh fish (mackerel, flounder, perch), kebapche (minced meat sausage), gyuvech (stew cooked in a clay dish), moussaka (potatoes baked with ground meat and white sauce), shopska salad (fresh vegetables with white sirene cheese), tarator (cucumber and yoghurt soup served cold) are just some of the staples of the delicious Bulgarian cuisine that you should try.
A visit to Bulgaria will not count as complete without a glass of delicious wine from local vineyards, which offer a wide selection of white and red wines. Wine connoisseurs should treat themselves to vineyards tours combined with wine tasting, and head to Varna, Pomorie or Burgas for the largest vineyards.
---
Bulgarian Black Sea resorts - conclusion
With an abundance of resorts and each attracting with their unique character, perfect weather, tempting beaches, stunning nature, cultural events, rich history, delicious food, extensive amenities and affordable prices - you can expect a fabulous holiday and long lasting memories from the Bulgaria's Black Sea resorts!