Albena, Bulgaria, Black Sea Coast.
Albena resort, Bulgarian Black Sea Coast. Description of the Albena, hotels, the weather in summer, what to do there, tourist attractions including aquapark and spa.
What is Albena (description), where is it (geographical location) and How to get there from Varna airport
Albena (Bulgarian: Албена) is the purpose-built Black Sea resort in the north-east of Bulgaria, situated 12km from Balchik and 30km from Varna. Albena can be easily reached from Varna Airport.
A combination of beautiful nature, nearby archaeological sites, and an ideal location with a good connection to Varna - one of Bulgaria's most liveable cities also called the "sea capital" of the nation - makes Albena a perfect holiday destination.
The resort stretches for 5 km along the Black Sea coast and boasts a 150 m wide beach with fine golden sand. The sea's depth doesn't exceed 1.6 m for the first 100–150 m from the beach. Albena is considered to have some of the best beaches in the country and many of Varna's residents travel to the resort to enjoy the fine warm sand and perfectly clear sea water. When writing this article, we spoke to a few of Varna's residents, who gave us their honest feedback about Albena.
Albena was built in the 1960s and is nowadays a closed resort town with its own town center, squares, and internal public transport, which usually serves the hotels in the resort. Every hotel provides its guests with shuttles or other means of transportation (you can check the website of the hotel you have booked for further information).
Other good transport options are a taxi, car rental or private transfers. Taxis in Bulgaria aren't expensive, but you should know exactly where you're going and the approximate distance, as foreign tourists can be sometimes "ripped off" by taxi drivers. However, taxi is still the easiest way to get from Varna airport to the resort. Nevertheless, we recommend checking with your hotel for available transport options.
---
Weather in Albena. Air and sea temperature. Summer, month by month (from May to September)
The tourist season in Albena lasts from May until October, which is typical for the Bulgarian coast and is aligned with the country's mildest season. The best months for experiencing a sunny and hot holiday are undoubtedly July and August (with air temperature around 30-35°C and sea temperature 20-22°C), as the following months of September and October can be quite chilly at times, especially on the north-east coast, where Albena is located.
May and June are considered the start of the summer season, which is not very popular with Bulgarians, especially because there aren't any public holidays and days off during that period. If you would prefer a quiet place without crowds and not too hot weather, then visiting at the beginning of summer might be a good idea. It is also much cheaper then. Nevertheless, students in Bulgaria have their proms in late May/early June and it is typical for Varna and Dobrich residents to celebrate in Albena, but this doesn't last more than 2-3 days.
---
Tourist attractions in and around Albena
Beach in Albena
The resort is considered to have one of the best quality beaches in Bulgaria, which is also Blue Flag awarded by the Foundation for Environmental Education. Although Bulgarians enjoy beaches in Albena and Golden Sands resorts, many choose to visit the busy seaside cities such as Varna and Burgas etc. and spend their time partying instead. In Albena, you can find numerous bars and cafes on the beach, and the Ganvie Beach Bar is one of the best places and not to be missed. All beaches in Albena offer a diversity of activities and water sports for everyone to enjoy. However, if you choose to, you can also just relax, soak up the sun and admire the light blue color of the sea.
---
Albena aquapark: opening hours, prices, attractions
Albena boasts the Aquamania aquapark – an ideal place for water slide lovers.
The guests of Prima Sol Ralitsa Superior, PrimaSol Ralitsa Superior Aquaclub, and Vita Park Hotels in Albena can enter the aquapark free of charge.
Opening hours are 10:00-18:00.
Kids under 90 cm are offered free entry; kids 91 - 120 cm tall are charged 16 BGN.
All other visitors taller than 120cm are charged one of the following rates:
14:00 - 18:00 - 28 BGN;
10:00 - 18:00 - 35 BGN;
Prices include: water attractions, swim rings, changing rooms, sunbeds, and umbrellas (depending upon availability). Safety boxes are available to rent for 5 BGN and towels for 2 BGN.
Food and beverages served at the restaurants and bars in the aquapark are charged extra.
You can find more information on aquapark's official website: http://albena.bg/en
---
Albena resort & Spa / Wellness
Albena resort has three Spa & Wellness Centres: Elements SPA in the Flamingo Grand Hotel is the newest and most luxurious wellness center in Albena.
SPA Centre Medika-Albena in hotel Dobrudja is suitable for physiotherapeutic and cosmetic procedures. They also offer mud-cure, fango and wax applications, phytotherapy, acupuncture, thalassotherapy, curative gymnastics, classic and aromatherapeutic massages, zone-therapy, and acupressure.
Ralitsa Superior SPA Centre is rated as a four-star boutique spa. Some of its services are mineral water baths with micronized seaweeds, curative salts, herbs, and essential oils; jacuzzi; special rooms for thermo-therapy; sauna and steam baths; indoor and outdoor swimming pools; gym and a beauty farm.
All of the spa centers are located in different hotels, so you might consider staying at one of them if you would like to get pampered. By staying at the specific hotel, you will be able to use most of the spa treatments, included in the price of your hotel room.
---
Albena nightlife. Is there any sleazier side of Albena? (e.g.: black currency market, prostitution)
Nightlife in Albena is not among the most popular ones, as there are not that many discos and parties there. It would be a better idea to travel by bus to Varna and have a fun night out there. Nevertheless, entertainment programmes are offered in each hotel in Albena.
It is also a quiet and secure resort, and you won't be disturbed here by prostitution, black currency market or drug selling. Albena is one of the quietest and relaxing resorts in Bulgaria, suitable for families who would like to get away from the noisy city and a busy schedule.
---
Summer Festivals near Albena
The most famous one in Bulgaria is the Solar Summer Festival, which is held in the Cacao Beach Bar in Sunny Beach (about 125km away from Albena). This festival is famous for hosting some of the best DJs like Fedde Le Grand, Tiësto, David Guetta, Armin Van Buuren and many more. It continues for a few consecutive weekends in July and August.
The Kavarna Rock Festival is also something worth seeing. It is held in the city of Kavarna (about 30km away from Albena). The festival normally takes place at the end of June / beginning of July and offers an unforgettable experience with some of the biggest rock hits of all time!
Another interesting venue would be the Bass Sea Festival in Burgas (160km away from Albena). It is a drum and bass fest hosting more than 35 Bulgarian and international artists. Boat parties and lots of fun are included!
Moreover, there are various festivals held in the mountain cities of Bulgaria, which are not too far from Albena. Some of them are International Jazz Festival in Bansko; Broken Balkans in Vitosha National Park; Stage of the Ages in Veliko Tarnovo and many more.
---
Most popular tourist attractions nearby

The entrance of the seafront ancient cave at Yailata area-archaeological and nature reserve
There are a variety of tourist attractions near Albena, which represent the unique and breath-taking side of Bulgaria's nature - one of the strongest assets of the country! Moreover, thanks to the country's rich history, you can discover some of the marvelous historic sights and learn more about Europe's history.
Bulgaria also boasts some astonishing monasteries that you can visit, thanks to the leading religion of Bulgaria - eastern orthodox Christianity. One of the most famous is the Aladzha Monastery - a medieval Orthodox Christian cave monastery complex in north-east Bulgaria, 17 km north of central Varna and about 15 km away from Albena.
Another extraordinary historical site is the Madara Rider, which is part of the UNESCO World Heritage. It represents a figure of a knight triumphing over a lion, carved into a 100 m high cliff. Madara was the main sacred place of the First Bulgarian Empire before Bulgaria's conversion to Christianity in the 9th century. The inscriptions beside the sculpture tell of events that occurred between AD 705 and 801. The site is situated in Madara, near Shumen (around 100km away from Albena).
If you're keen on spending time in nature, you might find those three suggestions suitable:
Cape Kaliakra (about 50km away from Albena) is a long, narrow headland in the Dobruja region of the Bulgarian Black Sea coast. It's steep with vertical cliffs reaching 70 meters down to the sea. Kaliakra is a nature reserve, where you can observe dolphins and cormorants;
The Yailata Archaeological Reserve (about 56km away from Albena) is also a great site to visit. The name has a Turkish origin and means 'high pasture'. There is a cave city of 101 apartments from the fifth century BC and three necropolises (family tombs) from between the third and fourth century. This archaeological complex belongs to different historical epochs – from the sixth century B.C. until the mid-ninth century. You can explore various caves and finish your tour with a great view from the fortress, offering an incredible sight of the Black Sea;
The last suggestion is the botanical garden and the palace of Tsaritsa Maria in Balchik (around 15km away from Albena). It is one of the most remarkable places to see at the north-east coast of Bulgaria. The palace and the botanical garden form an architectonic and park complex. It used to serve as a summer residence of the Romanian queen Maria (1875-1938) and was designed by one of the best Italian architects. The Balchik Botanical Garden has an area of 65000 square meters and accommodates 2000 plant species belonging to 85 families and 200 generations. One of the garden's main attractions is the collection of large-sized cactus species, the second of its kind in Europe after the one in Monaco.
---
Prices in Albena, Bulgaria
A preferred method of payment in Bulgaria is in the local currency called "lev" (1 EUR is about 1.95 BGN). We suggest that you exchange some currency before coming, as it will make your life a bit easier. Nevertheless, all types of credit cards should be accepted, but usually only for purchases above 10 EUR.
Bulgaria is a great place to enjoy some traditional and unique food with great sea views for a low price. The standard of living there is relatively low compared to the rest of EU, so prices are affordable for foreign tourists, but it is surely more expensive on the Black Sea cost than in other Bulgarian cities. Despite that, you can have a nice dinner for two, including some starters, main dishes, and a nice glass of wine for no more than 50 BGN (around 25 EUR). However, it also depends on the type of restaurant you choose, as there are some quite luxurious ones especially in Varna, but it shouldn't be more than 100 BGN (unless you order alcohol which might be expensive!).
Shopping in a local supermarket is a good idea, but it would be better to travel to Varna and shop there, as you can find some well-known supermarkets like Kaufland, LIDL, and BILLA which have relatively fixed prices, no matter in which country you are shopping.
The taxi fares are always negotiable, especially when it comes to tourist destinations in Bulgaria. However, daily taxi fare per km should not exceed 0.45 EUR. You can always ask for a rate in advance and we suggest that you always negotiate the price before you get into a taxi.
When it comes to the prices on the beach, in the bars and discos, it is normal to expect that every price is doubled or even tripled in comparison to the prices in cities. Everything is more expensive in the resorts.
---
Albena, Bulgaria Hotels. Quality of accommodation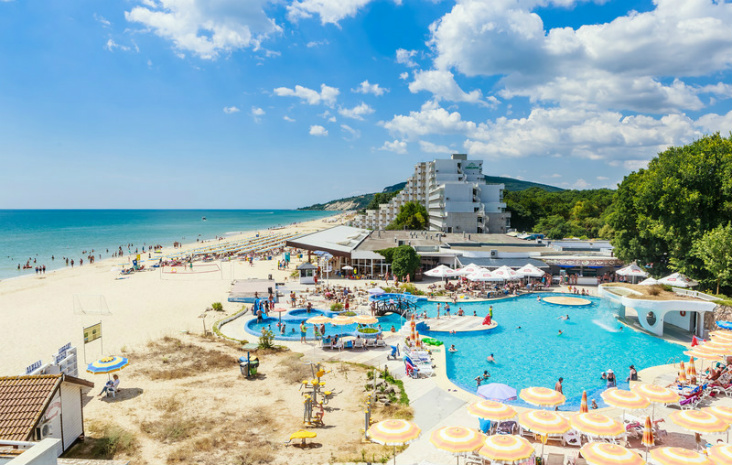 Hotels in Albena. Hotel Nona - All Inclusive
Hotels in Albena are not the most luxurious ones you can stay in. Most of them were built more than three or four decades ago, but still, they offer all the needed conveniences. The majority of them have a swimming pool, whole-day entertainment teams who take care of the good mood of their guests and restaurants which offer seafood and traditional dishes. We recommend you do your own research on a website like www.boooking.com and check each of the hotels.
There is a shuttle bus from every hotel to the beach zone, which makes it easy for tourists to travel in the resort. Therefore, a hotel doesn't necessarily need to be close to the beach, and your choice should be based more on personal preferences of a luxury level, entertainment offered, food served etc
Camping in Albena
There are a lot of green spaces on the south-east coast of the country, which is the main reason Albena is a great place not only to relax, but also to reconnect with nature. A good place to visit is the camping site "Gorska Feya", situated only 500 m away from the beach.
Another nice thing to do is to stay at 'Camping Varna', only 1km away from the sea. You might want to get further information by calling them directly or seeing them personally and asking about the camping possibilities, as there aren't any good websites on the topic.
---
Amenities in Albena: parking, supermarkets, post office, banks, pharmacy, hospital or medical center, dentist.
As it is a closed resort, only hotel guests can get in and out. Every hotel offers enough parking spaces for its visitors and there are also parking lots near the beaches. There are pharmacies in the town center and in most hotels. As for post offices services, we suggest you go to the hotel reception and ask them to mail it for you.
A good supermarket with reasonable prices is one called ALDO, but as mentioned earlier, it might be a good idea to do your grocery shopping in a supermarket chain when visiting Varna.
When it comes to health care, the policlinic MC "Medica-Albena" offers various kinds of services. Nevertheless, it is always a good idea to travel to Varna if you have a more serious health problem. Varna is one of the best cities to do so in Bulgaria because of its modern and high-quality clinics.
---
Albena, Bulgaria. Conclusion
It's fair to say that Albena is not one of the most modern and party-like resorts you can find in Bulgaria. However, its nature, calming atmosphere and lack of loud and busy places, crowded bars and discos make it a great place for families and older couples, who are seeking comfort and relaxing ambience to enjoy the sun and the warm sand under their feet, while having everything they need staying in all-inclusive hotels which take care of every need of their customers.
If you happen to find Albena too quiet and relaxing, you can always take a side trip to the nearby cities of Varna, Balchik, and Dobrich for some cultural tourism or for a night party with some of the best Bulgarian singers and DJs. You can experience there the Bulgarian summer spirit, as the nation is particularly famous for being very tourists friendly and for knowing how to make the most of a party!