Bulgaria Capital
If you are looking to visit a vibrant city with rich history, ancient sites, majestic temples, nearby mountain and stunning nature, excellent nightlife, exciting cultural venues, welcoming people and delicious food and wine, Sofia - the Bulgarian capital - is the place for you! Sofia also happens to be one of the most affordable cities in Europe, which means that your visit to the ancient Bulgarian capital will not break the bank. What else could you ask for?! Read on about Sofia's most popular attractions, entertainment, cuisine and some tips on how to make the most of your stay in Bulgaria's capital.
Bulgaria's capital - one of Europe's oldest cities
Sofia (Bulg. София), located at the crossroads of Europe and Asia, is the 2nd oldest city in Europe, dating back to Roman times when it was called Serdica. Since around 29 BC, Serdica gradually flourished and become a major Roman city in the region. In the Middle Ages, the city changed its ownership a couple of times between the Bulgarians and the Byzantine Empire until 1382, since when it was under the Ottoman rule for almost 500 years. Today's reminders of the Turkish oppression are Sofia's mosques. Finally, when the city gained independence from the Ottoman Empire, Sofia became the Bulgarian capital in 1879. WWII caused a lot of damage to Sofia, thus post-war Soviet-style appearance is noticeable around the city until today.
---
Bulgaria's capital - what to see and do in Sofia?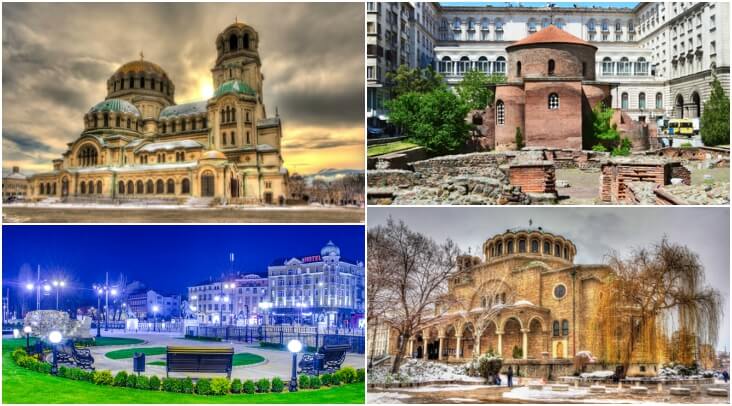 No matter what your interests are, you're unlikely to ever be bored in Sofia. Below is the list of some of the most interesting attractions and venues in the Bulgarian capital.
Bulgaria's capital: must see historical sites and museums
Sofia is Bulgaria's cultural center with a variety of museums and galleries, from ancient traditional collections to modern exhibitions, and numerous churches.
St. Alexander Nevski Memorial Church - the most impressive site and symbol of Sofia with its majestic golden domes. It is the largest church in Balkans, built to honor soldiers who lost their lives fighting for Bulgaria's freedom in the Russo-Turkish war in the 19th century. In the Aleksander Nevski Crypt (part of the church), there is the Museum of Icons which boasts the best religious icon collection in Bulgaria, with some pieces dating back to the 5th century. Admission: church - free entry; museum: 6 lv adults (3 lv students);
Sveta Nedelya Cathedral - Eastern Orthodox medieval church that suffered from extensive damages over centuries and has been reconstructed numerous times; now one of Sofia's landmarks with its huge dome. The typical example of neo-Byzantine architecture. Admission: free;
Boyana Church - UNESCO World Heritage site, located at the foot of Vitosha Mountain, south of Sofia center. Built in the Middle Ages, this tiny church boasts 90 murals - exceptionally significant Bulgarian pieces of medieval art. Admission: 10 lv adult (1 lv student); guide fee - 10 lv;
The Royal Palace - the former palace boasts two museums: National Art Gallery and Ethnographical Museum. The gallery displays more than 3,000 exhibits, which are some of the Bulgaria's most important collections of art pieces, including paintings, sculptures, and photographs. The museum exhibits traditional costumes, crafts, and folklore. Admission: gallery - 6 lv adult (3 lv student); museum - 3 lv adult (1 lv student);
National Archaeological Museum - Bulgaria's oldest museum, located in a former Ottoman mosque. It displays an impressive collection of Thracian, Roman and medieval artifacts. Admission: 10 lv adult (2 lv student);
National Museum of Military History - displays weapons, uniforms, flags and artifacts from day-to-day life. While the garden outside exhibits Soviet-made tanks, planes, missile launchers etc., dating back to 20th century. Admission: 3 lv.
---
Bulgaria's capital: parks and nature escapes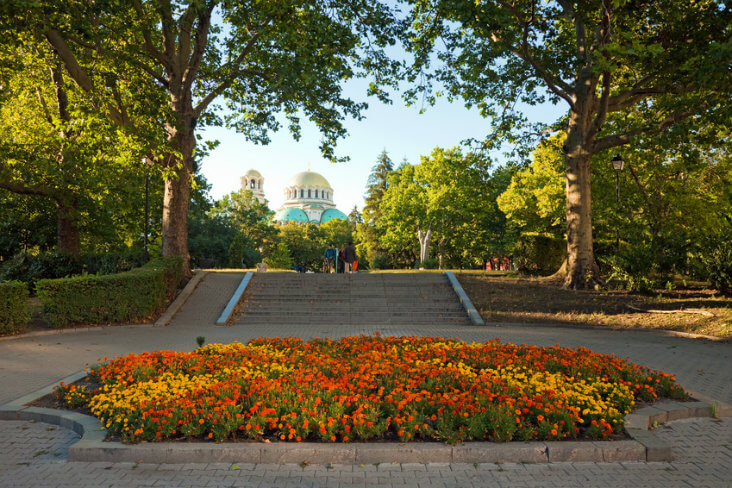 Sofia's large parks and manicured gardens are great places to escape from fast paced city life, relax and recharge in natural surroundings.
Borisova Gradina - the largest city park in Bulgaria and the most attractive in Sofia. A perfect place for a relaxing walk; it features numerous communist statues, flowerbeds, tennis court, stadiums, cafes and kid's playground;
Yuzhen Park (South Park)- invites for a relaxing stroll on pleasantly shady paths amidst trees, stream and a few hidden bars and cafes;
Vitosha Mountain - if you want to escape traffic and crowds, head to this peaceful forested park for a picnic, relaxing walk, day hike, cycling, or even skiing in the winter. It is only 20 minutes away by bus from Sofia's downtown. The mountain lies in the Vitosha Nature Park - the oldest nature park in Bulgaria - which boasts numerous marked trails, a handful of accommodation (hotels, chalets, huts), cafes, restaurants, and skiing trails (in winter).
---
Bulgaria's capital: cultural venues and nightlife
When you are done with a day of sightseeing, there is a time for some more fun at a wide range of venues that Sofia has to offer.
Ballet or opera at the National Opera and Ballet of Bulgaria (http://www.operasofia.bg);
Show in one of the Sofia Theatres e.g. Ivan Vazov National Theatre;
Classical music concert in the National Palace of Culture;
Numerous music clubs playing jazz, rock or piano bars e.g. Royal Piano Club;
If you are a party type, end your day in one of the great nightclubs or discotheques e.g. Club Mascara, Bedroom Premium Club and more.
---
Bulgaria's capital: where to eat?
Sofia offers the most diverse and best food experience in Bulgaria. You can indulge in delicious traditional Bulgarian food, local pastries, and snacks, market fresh produce, or try other foreign cuisines e.g. Moroccan, Greek, French etc.
For the best Bulgarian food experience, have a meal in one of the Sofia taverns. In addition to the authentic Bulgarian food and wine, you will experience folk music, songs and dances e.g. Chevermeto, Manastirska Magernitsa, or Hadjidraganov's Houses;
If you want a quick and cheap bite then try Soupateria, Divaka or Ma Baker;
For fresh fruit or veggies, head to the bustling Ladies Market - the biggest fresh produce market in Sofia.
---
Visiting Bulgarian capital - useful tips
If you arrive by plane to Sofia Airport, a metro is the fastest and cheapest way to get to Sofia center: a single ticket costs 1.60 lv (0.8 eur) and the journey takes less than 20 minutes;
Accommodation rates in Sofia tend to be lower during summer months due to the smaller number of business travelers;
Twice a day, there is a free Sofia-downtown walking tour (2 hours long) with volunteer English speaking guides from Free Sofia Tour: www.freesofiatour.com;
More information about Sofia: www.sofia-guide.com
Useful interactive map of Sofia in English: www.bgmaps.com/map/sofia