Why Bulgaria, you ask?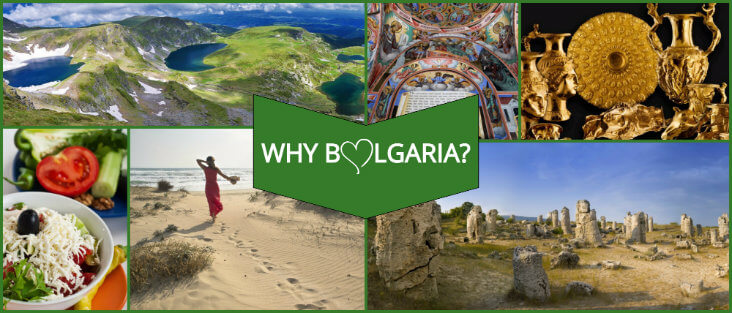 A question to which I can answer with thousands of words but would try to be as convincing as possible and that would require a succinct answer. 
Let's begin with a few historical facts:
Proto-Bulgarians was one of the first people on the European continent to manage to establish their own country (7th century AD);
Bulgarian lands have been inhabited by one of the first civilizations known to history, whose tombs and sanctuaries are still kept intact and to be seen in the most picturesque Bulgarian towns, including some of the oldest golden ornaments and treasures;
All Bulgarians know and are proud of their history and traditions as they pass them on from one generation to another - evidence of the country's profound spirituality and its rich culture.Тhe folk dances and songs will leave you breathless, as the song "Izlel e Delyu Haydutin" is part of the Voyager Golden Record selection of music included in the two Voyager spacecraft launched in 1977.
Another great reason for visiting Bulgaria is that the locals are very hospitable and ready to prepare some delicious traditional meals for their guests and do everything to make them feel welcome.
The breathtaking nature also makes Bulgaria worth visiting. Its mountains, numerous lakes, 100 beaches to choose from and wonderful sights will make you fall in love with the country.
Bulgaria is neither the country to go shopping for the most modern brands, nor one to see Hollywood stars and world premieres, but a magical place on the face of the Earth, where you can become part of world history, find yourself in the astonishing nature and take part in unique folk dances and traditions. So when you are wondering "Why Bulgaria?", let me just tell you this: Because it's worth it!
---
Golden Bulgaria
Your guide for a cheap and comfortable holiday in Bulgaria.
Do you dream of a successful and convenient vacation in Bulgaria? And how about affordable? Well, after all, you're not the only one.
Golden Bulgaria offers you a practical online guide to Bulgaria and its tourism: where is Bulgaria, is Bulgaria in the EU, is it safe, airports, Bulgaria destinations, interesting facts, tourist attractions and much more. We also share a great deal of useful, most sought-after information about Bulgaria available on the web today.
How to get to Bulgaria, where to go, what to do, where to stay and more importantly how much my Bulgarian vacation is going to cost? Explore, seek information and valuable advice, plan your Bulgarian holiday with us - all based on our 12 years experience in the Bulgarian travel market.
---
Did you know?
Bulgaria, BG
Population: 7,112,000. 101st most populous country on Earth
28 Provinces
Geographic coordinates: 43°N 25°E
Currency: Lev (BGN)
Language: Bulgarian
Official script: Cyrillic
Area: 110,994 km2
Religion: Orthodox
Government: Unitary Parliamentary Republic
Time zone: Eastern European (UTC+02:00)
Calling code: +359
Useful numbers: ambulance: 150; police: 166
Weather: a temperate-continental dry climate; Black Sea coast - mild sub-tropical climate;